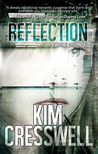 Reflection by Kim Cresswell
My rating: 4 of 5 stars

Most of you that know me and follow my blog know that I am a sucker for a book cover. Well I couldn't wait to get my hands on this one purely on the fact that the cover drew my in. Having listened to the audio of this I certainly wasn't disappointed. And I listened to this story in a matter of days while I was at work, Making my job more enjoyable that's for sure.

This is the first book in the series and with one exciting start to the story we meet Whitney Steele. Who is a Florida investigative reporter. She is out to find the BIG STORY! Whitney receives a lead pointing to the worlds first cloned human who is actually a small child. Saved by Hottie Blake who is an undercover FBI special agent after Whitney finds herself almost killed we follow them on a roller coaster Journey in this griping story.

I absolute loved their relationship and I loved the fact that there is romance along side this story. the characters are believable and the narrator is brilliant telling the story with emotion and excitement just how the story is written. Totally keeping me on my toes.

This is one fast paced exciting story that is full of mystery and excitement which I highly recommend giving it 4 stars.

I would like to thank the author and Noelle Holten for giving me a change to listen to this in exchange for an honest review.