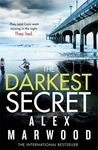 The Darkest Secret by Alex Marwood
My rating: 4 of 5 stars
First of all I don't know where to start with this review this is actually my third book by Alex Marwood after reading The Wicked Girls which I totally loved and The Neighbour Next Door. I was so excited to see Alex had a new book out. I have to say I love the title that's just a statement of its own and also the cover. Its got buy me written all over it judging by the cover. But unfortunately I found this book really hard going at times and for me it didn't live up to The Wicked Girls.
The book starts off with police statements which grabs you from the start then I started to get lost with the flicking back and forth from the past to the present and the different characters it get a bit confusing. But eventually the story had built up enough for me to guess who killed Coco so I was more intrigued to know whether I had guessed right. But although I did guess right there was more to the plot than I thought which I enjoyed.
This book is about identical twin 3 year old Coco Jackson who goes missing on a holiday in Bournemouth 12 years ago. And is written over two intense weekends. First when Coco goes missing and the second twelve years later at the funeral of her father. this book is full of lies and dark secrets. I have to say the adults in this book aren't the nicest people they will make your skin crawl.
But overall I do think its a good plot, but for me I like a book more faster paced. Maybe I compared this book to the Wicked Girls to much. But never the less it was a good read. And we all have our own opinion but for me this is a 3.5 stars
I would like to say a big thankyou the publisher, Sphere and NetGalley for a copy of this book in exchange for an honest review.