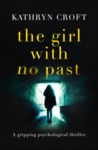 The Girl With No Past by Kathryn Croft
My rating: 4 of 5 stars
After hearing lots of good things about this book I thought I would give it ago and it was definitely worth it. This is actually my first book by Kathryn croft and wont be my last . Wow what a gripping page turner down I simply couldn't put this down until I had devoured the whole book in just one evening. This book will have you guessing until the very end.
The story is about leigh hiding a secret from the past that catches up with her after a series of events. which keeps you guessing…… What on heard could Leigh have done that's so bad. And who is the person sending Leigh emails?! although I have to admit I did guess the emailer But then I was blown away with the massive secret then. I was like NO WAY I didn't see that coming. The chapters alternate between Leigh's high school past and the present day making you read more with the author weaving little pieces to the story which i found very clever.
Leigh was a brilliant character and you couldn't help but feel sorry for her with everything that's happened to her in the past is what makes her the way she is today living a lonely life and not letting people get close to her. Until she meets Julian and starts to have a normal life, Then it all goes horribly wrong.
This psychological thriller will have you on the edge of your sit and up all night reading with all the twists and turns. I am giving it 4 stars and I am looking forward to kathryn's next book due out in february
Thank you to Bookouture for an ARC in exchange for an honest review